Fifth-Grader Spearheads Fundraiser after Water Main Bursts#
It was early one morning when Charlie Thomas, 11, and his mother, Beth, arrived for school at Oakwood Academy in Taylor, Michigan, where Charlie is a fifth-grader. They noticed a fountain gushing from a pipe near the parking lot, sending thousands of gallons of water into an adjacent field. No one knew how long the water had been running or the cause of the geyser.
Diana Blair, Oakwood's longtime administrative assistant, called the City of Taylor to evaluate the issue. After some investigation, the Water Works Department determined the school's main fire protection system's water pipe had burst. They could fix it, but because it was on private property, they wouldn't accept responsibility.
School let out early that day while the water system was repaired. On the way home, Charlie talked with his mom about the repairs and how he'd like to do something to help pay for them—even inquiring how much money he had in his savings account to donate to the school.
Wanting to encourage a generous spirit, Beth suggested that he could do a fundraiser to help the school. Maybe a read-a-thon? Maybe a bake sale? He settled on a read-a-thon, something he'd done in the past to raise money for the Adventist Development and Relief Agency. 
In passing, Beth told Diana about Charlie's idea. Diana got excited. What if other students wanted to join in? she thought. It would not only benefit the school, but encourage the students to spend more time reading in their free time.
Providentially, the school board was meeting the next evening. Beth put together a proposal for the read-a-thon and sent it to the board chairman for approval. The vote came back a unanimous 'Yes!'
The next morning, Beth and Diana brainstormed about dates for the fundraiser, settling on four weeks—March 21 through April 11. Beth put together information packets and reading diary sheets for each Oakwood Academy family, then put up posters in the school. Everything was set for the big day.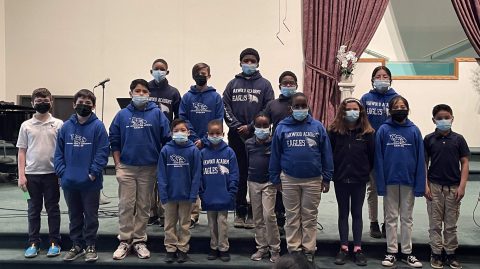 Seventeen of the 29 students in Kindergarten through 8th grade chose to participate in the read-a-thon. Teachers and aides were excited to see students using any extra time between classes, or when finished with assignments, to read books they had brought from home or borrowed from the library.
The organizers encouraged students to set goals for themselves, either for the sum of money they wanted to raise, pages they wanted to read, or time they would commit to the project. One student read 48 hours! Another student raised over $650. Altogether, the students raised over $1,400. When the school received the bill from the city, it was just a little over $1,700. The students' contributions almost completely covered the cost.
Principal Connie Hickman, grades 6-8; Jennifer Brummett, grades K-4; Diana and Beth are thrilled, not only with the students' determination and the amount they raised, but with the extra knowledge they gained while reading.
Connie says, "The read-a-thon encouraged the children to read for fun. One parent came to me and said she'd never seen her child read that much before. It was inspiring to see the community rally together for the school."
"I wanted to do the read-a-thon because it would help me learn," Charlie says. "The more you learn, the easier it is to do assignments. It was also an easy way to earn money for my school. I think other people could do the same thing to help with their school's growth."
As Paul advised young Timothy, "Let no one despise your youth, but be an example to the believers in word, in conduct, in love, in spirit, in faith, in purity. Till I come, give attention to reading, to exhortation, to doctrine" (1 Tim. 4:12, 13, NKJV, emphasis supplied). At Oakwood Academy, it's encouraging to see students taking that counsel to heart.