The Turning Point
On September 11, 2021, Dave Fowler was baptized at the Kalamazoo church. He chose only to be baptized after a series of events showed him that the church he needed to be part of was the Adventist church. 
Fowler was not raised Adventist—in fact, he was a regular member of the local Wesleyan church. He loved his church. Marjie Shade, who worked with Fowler for much of his journey, says that Fowler wasn't planning to leave his church, but he saw an Unlock Revelation sign and his journey to God and truth began.
In March 2017, Shade decided to plant a yard sign advertising the Unlock Revelation event in Cooper—which is where Fowler lives. When Shade stepped out of her car to place the sign, a mound of snow loomed in her way. Stepping over it, she placed the sign, but when she stepped back, she twisted her ankle and broke her foot. She hobbled back into her car and left, her foot throbbing with pain. The sign stood alone behind the mound of snow.  
Fowler saw that sign, and came to the meetings by Kameron DeVasher. "He was really faithful," Shade comments, "He came for every single meeting, but he kept [attending] his church." 
Fowler attended a second seminar, also by DeVasher. In addition to the meetings, Shade, her husband, and a few friends regularly met with Fowler and studied Doug Batchelor's Landmarks of Prophecy Bible studies.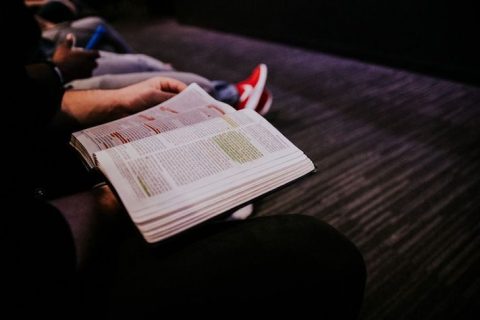 The Kalamazoo church changed pastors. DeVasher went to the conference office to work in Personal Ministries, and Moise Ratsara became the new pastor. Ratsara held another Revelation Seminar, which Fowler attended. 
By this point, Fowler had studied much of the Adventist beliefs, but he refused to accept the truth. Ratsara and Shade both point to Fowler's attendance at the Wesleyan church. Fowler loved his friends and fellowship at that church, and did not want to leave. Plus, he didn't want to give up pork. 
Shade comments that it was around this time that she attended a soul-winning training program. "If the fruit isn't right, just wait," the leaders advised. Shade took those words to heart and determined to wait until the Lord showed her the fruit was ripe. 
Then COVID hit. It was a blessing in disguise. Ratsara says, "COVID was actually our friend." As COVID hit, churches shut down and people were quarantined to the safety of their homes. For some, though, safety meant solitude. 
Fowler had refused to leave the Wesleyan church because of his friends within the church. Yet his friends, says Ratsara, did not reach out to him for a year. "That really impacted him," Ratsara says. "The turning point with him was when he realized that what he thought was true, was false." Fowler thought that the church members at the Wesleyan church were his friends—yet not one of them reached out. 
Meanwhile, Shade was still praying for Fowler. In a Sunday morning prayer group, she was impressed to reach out to Fowler, says Ratsara. Fowler had suffered a heart attack, says Ratsara, and the doctor told him he could no longer eat pork. The Lord had knocked all of his objections out of the way. 
Shade says that around this time, her husband saw Fowler pull out of the church parking lot—and the next day, she called him. Fowler said that he had been thinking about them, and the Lord had laid it on his heart to come back to church. 
Shade responded that he should definitely come to church, but Fowler said he wasn't sure which one. "The Lord wants you in the Adventist church," Shade said, and the next week, Fowler was in the Kalamazoo church. 
Ratsara furthers adds that moments before Shade had called, Fowler had been praying, entreating the Lord to tell him where he should go. Shade and her husband, Brian, began studying with Fowler again, and after four long years, he fully surrendered to the Lord.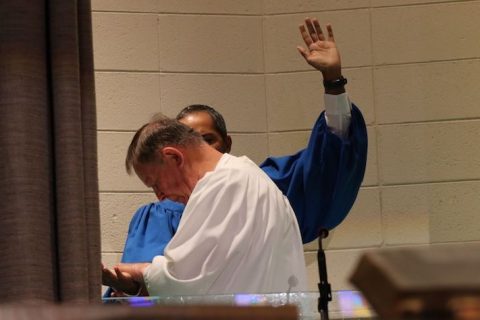 Fowler was baptized on September 11, 2021. Ratsara wishes they had recorded the moment, because Fowler was overjoyed. "It was like a child coming home after so many years." Fowler is now involved in the church's discipleship class. 
"COVID was rough on a lot of people, even for us, but the Holy Spirit did not take a break," Ratsara says. Fowler's story reminds us that rough times are not the end—even when it seems our world is falling apart, God may be trying to point us in the right direction. He used COVID, loneliness, and a heart attack to reach Dave Fowler. "Even though [Dave's baptism ultimately] cost me a broken bone," says Shade, "I wouldn't change it for anything."