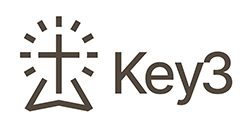 What is Key3?
Key3 stands for three "keys" of Adventist Education, which are:
Bringing students to the foot of the Cross.
Quality at all levels.
Training students in the message and mission of the Seventh-Day Adventist church.
A further explanation of the 3Keys can be found below. 
---
Bringing Students to the Foot of the Cross
Our goal is to introduce young people to Jesus Christ and the Gospel and to show them a Savior that died to redeem them out of His inestimable love for them. The educator's greatest desire and prayer is for the personal conversion of each student to the love of Christ, as well as the acceptance of His transformational power to change their life. In order to accomplish this, every teacher should consider themselves a minister of education, and should view their role in the classroom as primarily evangelistic. 
The teacher is to present scholastic material in a way that encourages not only corporate learning, but also allows for personal evangelism.
In the highest sense the work of education and the work of redemption are one... To aid the student in comprehending [the principles of the character of God], and in entering into that relation with Christ, should be the teacher's first effort and his/her constant aim. The teacher who accepts this aim is in truth a co-worker with Christ, a co-laborer with God."
 Quality at All Levels
"So the governors and satraps sought to find some charge against Daniel concerning the kingdom; but they could find no charge or fault, because he was faithful; nor was there any error or fault found in Him" (Daniel 6:4). If Daniel had lacked quality at any level of his professional life, would he have had an opportunity to witness for God? Like Daniel, we should strive for quality at all levels, not just in those things that pertain to academics or spirituality. 
Quality at all levels includes: academics, communication, professionalism, customer service, cleanliness, leadership, hiring standards, consistency, and accountability. 
Let every church school established be conducted with such order that Christ can honor the schoolroom with His presence. The Master will accept no cheap, shoddy service. Let teachers be learners, putting the whole mind to the task of learning how to do efficient service. They should ever carry a burden for souls--not that they themselves can save souls, but as God's helping hand they have the privilege of winning their pupils to Christ.
If we lack professional quality at any level in our schools, we run the risk of handicapping our ability to witness for God.  
---
The Message and Mission
All across Scripture are commands to do missionary work, to spread the gospel to the world (see Matthew 28, Revelation 14, and Matthew 25:40). Christianity without witnessing often turns stale, and in order for education to produce a well-rounded Christian, it is important that students be given time to serve the Lord, to wet their feet in the ocean of work that lies before us. 
Outreaches should be conducted in the community, where students can see how their mission work affects the very place they call home. 
Wherever possible, students should, during the school year, engage in city mission work. They should do missionary work in the surrounding towns and villages. They can form themselves into bands to do Christian help work. Students should take a broad view of their present obligations to God. They are not to look forward to a time, after the school term closes, when they will do some large work for God, but should study how, during their student life, to yoke up with Christ in unselfish service for others.
---
Adventist education strives to add to the scholastic education. Our education aims to harmoniously develop the physical, mental, and spiritual powers of the student, while focusing on a complete restoration of man: one who is an image of God. The outcome is a strengthened character, fortified mind, and a recreated soul. 
This philosophical thrust of Adventist education can be synthesized into the three basic operational strategies above, Key3. When these three elements are seen within our schools, the goals above are more likely to be successful.