Evangelism the Way of Life
For Christians, evangelism isn't an event—rather it's a way of life. 
A conference-wide public evangelistic effort like Discovering Revelation is a massive undertaking. Beyond the spiritual preparation of prayer and the blessing of the Holy Spirit, months of planning are required to secure or develop quality resources, allocate or raise significant funds, train and equip local speakers and coordinators, and to organize effective advertising—all with the goal of sharing the Three Angels' Message with as many people as possible. 
When Discovering Revelation launched on Monday, October 2, just over 1,500 guests had pre-registered to attend some 70 local sites across Michigan. While not every pre-registrant came, many others attended in their place. Thus, with 83 percent of participating churches reporting at the time this was written, we praise the Lord for the over 2,800 opening night attendees. More than 1,000 were non-Adventist visitors—an average of 15 non-members per Discovering Revelation site!
It's important to note that non-attending pre-registrants, along with those who came for a time but stopped at some point, are often a rich field for further follow-up ministry. For such individuals, their harvest may very well come in subsequent studies or series.
Beyond quantitative measures like attendance and decisions for baptism, there are qualitative observations unique to each location that are important to recognize, as well. Some churches are holding their meetings in conjunction with more extensive health outreach programs. Some supplemented the handbill mailings and social media advertising with broad personal invitation efforts ahead of the public campaign. Some meetings are being held in neutral sites like public libraries or local resort/conference centers. What impact did these approaches make to the campaign's success? In the months ahead, we will comb through the data and feedback from these meetings to analyze what factors promote greater success and how we can best leverage these in future evangelistic efforts.
One element we've emphasized before and during the series is maintaining a close connection between the conference leadership and the participating churches. Weekly Zoom calls are held to share testimonies, answer questions, and lift each other up in prayer. Additionally, Kameron DeVasher, Andy Im and I are striving to personally visit each Discovering Revelation site to witness firsthand the incredible work being done, to offer words of encouragement and prayer, and to share those experiences with the broader conference family via our Michigan Conference Facebook page and weekly email Update. Through these visits, we've been blessed to hear and see powerful testimonies of how the Holy Spirit is working in the lives of visitors and workers alike. Let me share a few.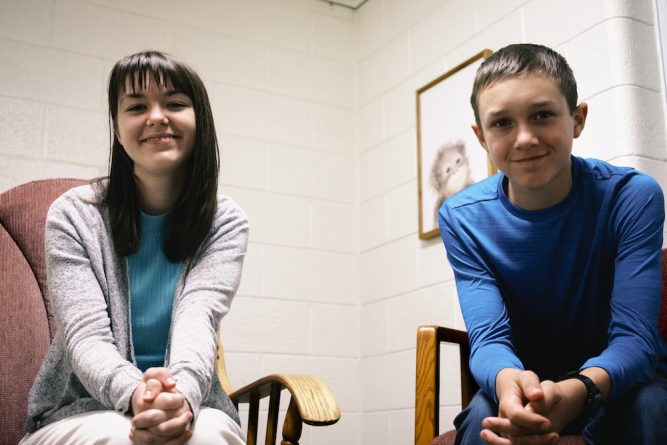 When Vic Guajardo from the Ithaca church took his grandchildren to the park, he met his neighbor who lives just two houses away from the Ithaca church and is a minister of another denomination. He also had his grandchildren with him. During their conversation, the neighbor mentioned that he had seen the sign for Discovering Revelation in front of the church and had one of his members ask him about the meetings. He had encouraged them to go because "Seventh-day Adventists really know their Bible." Guajardo invited him to come and he said he would.
Sim Clements and Lynne and Mickey Nickless told me that one guest came because she first heard about the meetings on Strong Tower Radio, found a hand flyer hanging on her door and later received a mailed flyer. When she saw the billboard on I-69, she said she just had to come and see what this was all about.
Dawn Geigle told about one guest who attended grade school in Fremont all the way through the 8th grade back when Fremont had a church school. Somehow, she had slipped away from the church. She responded to an invitation and hasn't missed a single meeting.  
Dedication of Members
One thing that stands out during the Discovering Revelation series is the dedication and sacrifice of our members. It's not easy to have a full-time job and commit anywhere from three or more nights a week to serve for several hours into the evening for a month or more. And to do it with enthusiasm, energy, and warmth! But that's what so many have been doing on a weekly basis, and we praise God for members faithfully responding to the call of Jesus to spread His message of love and mercy.
In preparation both prior, during, and following the event, it's critical for members to organize, plan, and mobilize for service. Advertising, distributing flyers, and spiritually preparing for the series through prayer and fasting are several ways members got involved prior to the event. It was amazing to hear how churches rallied together to pray for the upcoming series, fully recognizing that success depended upon God and members cooperating with His providence and strength.
During the series, church leaders designated responsibilities such as registration, audio-visual (AV), greeting guests, and children's coordinator, to name a few. Each team member plays a coordinated role that makes the event possible. As the saying goes, you're only as strong as your weakest link with everyone fulfilling an important and interelated task. For example, the children's coordinator serves a multi-faceted role by providing guests with day care services enabling them to freely listen to the nightly messages. They also help other members with small children so that they're able to serve in various ways through the evening hours.  
When God commissioned us to take the gospel to the world, He promised to be with us. The results are His responsibility. We are not able to measure our success.
It's also encouraging to see new members taking on some of the responsibilities needed to carry out a series of meetings. Vic and Trish Mosley are two dedicated new members who joined the Pullman church family during the last evangelistic series conducted by Elder Jay Gallimore. Now they invite family and friends and have taken on the responsibility of registration for Discovering Revelation because they want to help others find the truth.
With many churches committed to a series lasting several weeks or more, it's more of a marathon than a sprint to the finish line. Even though some churches have concluded the advertised meetings, the work isn't over yet. It's important for members to get involved with personal Bible studies and discipleship-based activities, and together with the local pastor follow up with those who expressed interest. 
It can be discouraging if few or no guests come to the meetings, and some might be tempted to consider the meetings unsuccessful. It might be tempting to conclude that evangelism doesn't work in their location. At Brighton I asked the team how many joined the church through evangelistic meetings. A large portion raised their hands and one lady said she didn't even come until the 20th night.
When God commissioned us to take the gospel to the world, He promised to be with us. The results are His responsibility. We are not able to measure our success. We look at outward things that are measurable, like attendance or baptisms, but God looks deeper—right into the heart. He measures the attitude, the love for souls, the opportunities provided, our spiritual interest, and the willingness to respond and work with Him in the plan of Salvation. When we give our best in service, God amplifies the transformation process of our characters toward the likeness of our Savior. This can't be measured by humans. 
For Christians, evangelism isn't an event—rather it is a way of life. Our goal is to cooperate with Heaven in presenting the gospel through our God-centered life and sharing the invitation to all.
We are relishing the joy of seeing so many who have responded to the gospel invitation through Discovering Revelation and the enthusiasm and commitment of the local church teams in carrying out the Gospel commission. We, too. lift our voices in praise to God.