The Foundation of Worship (Part II)
When the wind picked up, they knew they were in trouble. As the intensity grew, the mariners quickly realized this was no ordinary windstorm.
When the tempest exceeded anything they had ever experienced, they believed the storm was supernatural. Fearing for their lives, they began calling out to their individual gods. The captain found Jonah sound asleep below deck, and woke him saying, "How can you sleep? Get up and call on your God! Maybe He will take notice of us so that we will not perish." The sailors concluded that whatever god was in control of nature was upset with someone on their ship. They cast lots to find out who was responsible. When the lot fell on Jonah, they surrounded him and asked, "Tell us, who is responsible for making all this trouble for us? Who are you and where do you come from?" Jonah responded, "I am a Hebrew and I worship the Lord, the God of heaven who made the sea and dry land" (Jonah 1:9). 
In our modern Christian culture, we commonly use the word "worship" to include all kinds of religious interactions. Is it possible that we forget the deeper meaning of worship referred to in Revelation 14—the focal point of the Great Controversy? Jonah's response is fascinating because he is actually running from God! He obviously isn't referring to an event or style of programing when he claims to worship Him. Let's address a few questions as we take a broader look at worship.  
Who is the object of worship? The first commandment points to God as the supreme object of worship. Jesus left no doubt when He said, "For it is written, you shall worship the Lord your God and Him only you shall serve" (Matt. 4:10). 
What is worship? Worship is the process of becoming like the one being worshiped. By beholding we become changed. True worship involves opening our heart to God and giving our entire self, our thoughts and emotions, to God's use. Then all of life becomes an act of submission–an act of worship.   
Who defines worship? The one being worshiped defines it. For example, a rock star is defined by their looks and actions. People who idolize or worship them voluntarily incorporate their style of dress or admired actions into their personal lives. For Christians, Jesus is our example in all things, and He demonstrated total submission to the Father, modeling how to worship.     
Is there a preparation for worship? In this quarter's Sabbath School guide In the Crucible with Christ for July 26, the lesson pointed out three important facts that help lay the groundwork for worship. The passage used is Job's response when he learns that all his children and wealth have been stripped from him. "Naked I came from my mother's womb, and naked I will depart. The Lord gave and the Lord has taken away. May the name of the Lord be praised" (Job 1:20-21).  
First, Job admitted that he was helpless and had no "rights" or claims to anything. Next, he understood that God was in absolute control. Then he acknowledged that God was and is righteous. As Job's relationship with God deepened over the years, it became more meaningful. So had his reverence and submission to God. When the crisis came, he was able to continue to worship because he fully trusted the Lord. Psalm 96:6 says, "Oh come, let us worship and bow down; Let us kneel before the Lord our Maker." "True reverence for God is inspired by a sense of His infinite greatness and a realization of His presence" (Ellen G. White, Prophets and Kings, p. 48). James adds that if we submit ourselves to God, we draw near to Him and He will draw near to us.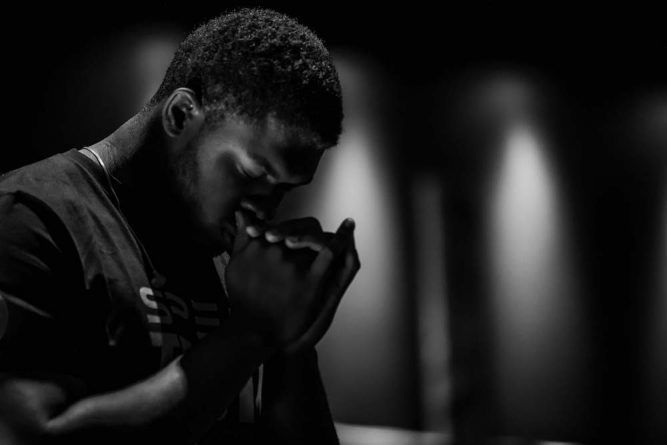 How should we worship? God is Spirit, and those who worship Him must worship in spirit and truth. To worship in "spirit and truth" means to have an attitude of reverence and, in all sincerity and with the highest faculties of the mind and emotions, apply the principles of truth to the heart. As we grow, our worship experience will deepen. The Holy Spirit is our Teacher; Scripture is our textbook. 
Who benefits from worship? God is not a taker; He is a giver. Everything belongs to God. He created everything, including us. Although God appreciates and enjoys the love we give Him, He is the source of that love. God doesn't need our love to do anything for Him. It doesn't give Him self-confidence or fortify Him from discouragement. His desire for worship is not motivated by selfishness. He knows we need to worship Him because we are dependent on Him for everything in life.  
What can you expect when you worship God? Initially we may experience a sense of happiness or contentment, or some other positive emotion. But as we experience life, it doesn't take long to realize that a superficial understanding of worshiping God doesn't sustain those feel-good emotions. Our emotions should not dictate our worship, rather our worship must be based on scripture. We can expect the promises of God to be a reality in our lives. Satan would have us think that when we worship God challenges will be filtered out of our life experiences. But Peter warns us that worshiping God doesn't shield us from the consequences of this evil world but does provide us the opportunity to put our trust in God (1 Peter 4:12). 
Is it possible that we forget the deeper meaning of worship referred to in Revelation 14--the focal point of the Great Controversy?
What do I get out of worship? We don't worship to get–we worship to be! Worshiping God involves surrendering to His authority and control. God created us with basic human needs that ultimately only He can fulfill. Before sin He provided for all those needs. There was no lack for anything. When man rejects God, he also rejects the one who supplies all our needs. Our world is full of people suffering from low self-worth, no purpose, anxiety, and fear. So many are without hope.  
When we are reconciled to God and submit ourselves to Him, the way is restored for God to provide all our needs. He fills our hearts with love, and we have a sense of value. He promises that even though we walk through the valley of the shadow of death we will fear no evil–because He is with us. He gives us a purpose for living by encouraging us to go home to our friends and tell them of the hope He has given us. 
Why does God want worship? Satan portrays God as demanding and threatening – as if He were forcing us to worship Him. He knows that if we submit to God's authority, we will be victorious over every deception he has. We need what only God can give, and He cannot give it unless we worship Him with our whole heart.  
By God's definition, worship cannot be forced. Willing worship from the heart is a choice!  
What did Jonah mean when he said, "I worship the Lord, the God of heaven who made the sea and dry land"? In the study notes for Jonah 1:9 (NIV Andrews Study Bible), it says that the phrase "I worship the Lord" is an expression that means "I believe in the Lord God and live according to His stipulations." The foundation of true worship is a reverent love so strong you will obey and honor God. Worship starts as an attitude (reverence) and results in action (submission to God) and over time becomes a state of being. By God's grace, together we can follow Paul's admonition when he said, "Therefore, I urge you, brothers and sister in view of God's mercy, to offer your bodies as a living sacrifice, holy and pleasing to God–this is your true and proper worship"(Rom. 12:1, 2, NIV).